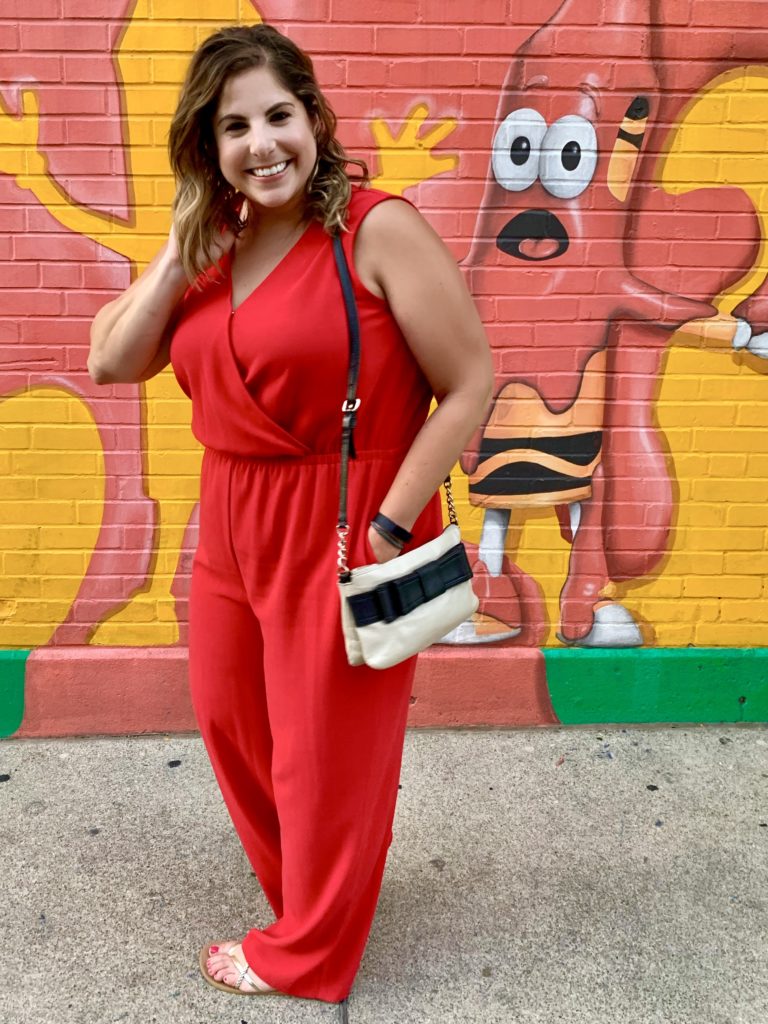 I have a problem with letting items I love go, even when they're past their expiration date. I still have handbags and sunglasses and other clothes from high school that I refuse to give up.
Why? I don't know. Some part of me just can't part with the memories associated with the items, part of me thinks about the money I spent on them and I think there is also a small part of me that wonders if it'll all be in fashion again someday.
You'll likely recognize this Kate Spade Celina Crossbody handbag from my last post about finally bucking up and buying a jumpsuit, which was life changing for me. But this bag was linked to a similar one at Nordstrom Rack, because the style hasn't been made in several years.
This bag is old AF. If I had to guess, I'd say I've had it for about 7 or 8 years. I remember buying this handbag with tips from a bartending shift and I was so excited I had my own cold hard cash to pay for it. (I was young!) I have older bags, but this bag gets used most often. It's the perfect size for just about anything I do, is comfortable to wear and fits everything I need– it's been to baseball games, press boxes, on airplanes, to conventions and conferences and to the more mundane places I go all the time — the grocery store, the doctor, the gym and honestly, I've been using it for work days since the stay-at-home order went into effect, since I do occasionally need to go out for work. Before that, I was using this huge carryall tote for work.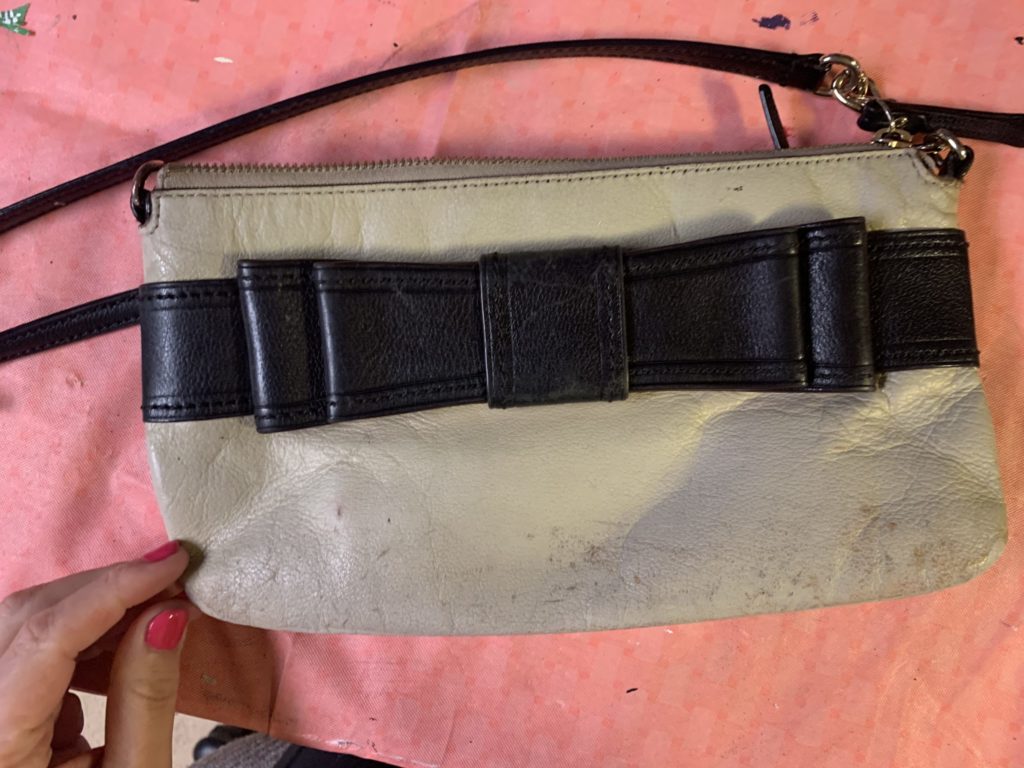 It's beat up. I just told you all the places this handbag has traveled over nearly a decade. I've been searching for a new handbag like it for months but haven't been able to find one that's quite right. I am in love with this bag. I tried leather cleaner, I tried a Magic Eraser — the marks wouldn't come off.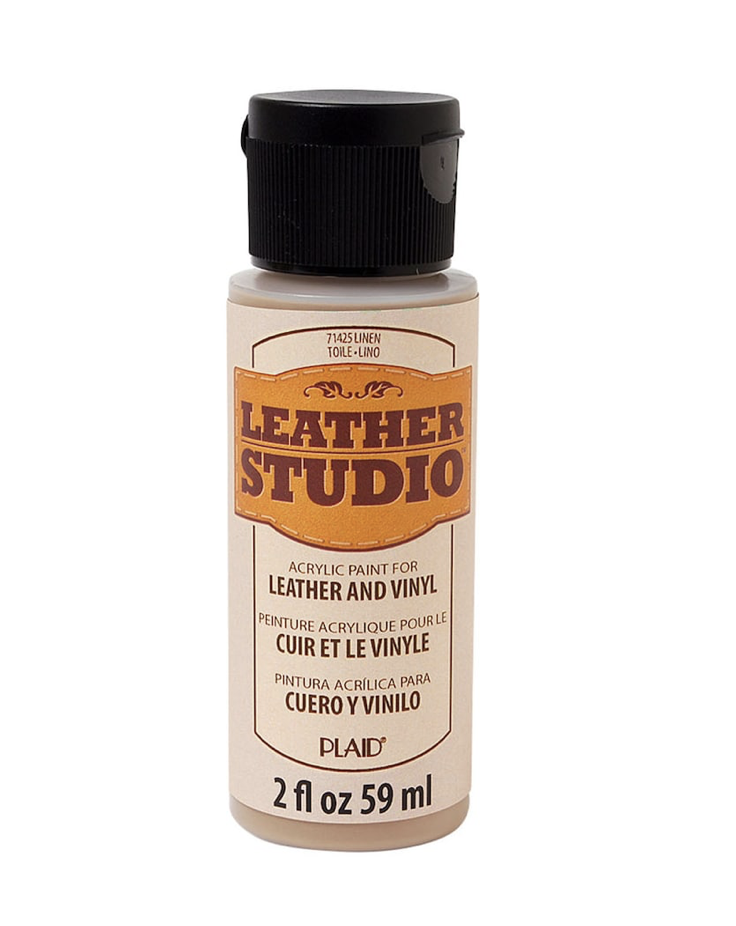 Last week, I was at Michael's searching for some fabric paint to attempt some new hand painted fabric items for Sweet E's, when I noticed a shelf below the fabric paint with, "Leather Paint."
Yeah, I wasn't aware this was a thing. I think maybe I knew leather paint existed years ago, but I also think I saw another blogger try to use another brand to repaint a couch and it didn't go well. Because I'm on the hunt for a bag, I decided this paint was worth a shot. I wanted to try it on a small part of the bag and figured I'd find a way to clean it off if it didn't look good or ruined the feel of the leather.
This paint, Plaid Leather Studio says it works for leather and vinyl. At my local store it was $3.99 and that was worth the gamble. I purchased the paint in Linen.
Make It:
I wiped the whole handbag down with a paper towel with some rubbing alcohol to prep it.
If you need to — tape off any embellishments or zippers on the item to prevent accidents using painter's tape.
Using a small synthetic brush, apply the paint evenly in light coats.

I started on the back of the handbag, which is usually against me — in case this didn't go well. But after one coat, I was already impressed — the paint color matched the original color of the bag perfectly.

Apply 2-3 coats as necessary to cover old color or marks on your bag. I applied three coats on the back of the handbag and after that went well, I decided to go for the whole thing.
Allow handbag to dry for at least 12 hours.
Enjoy your refreshed bag and show it off!
I have a pretty steady hand (I do paint things as a side hustle though) so I didn't tape anything off. I wasn't perfect, so I kept a very small brush on hand with rubbing alcohol to clean up any small mistakes, which worked perfectly.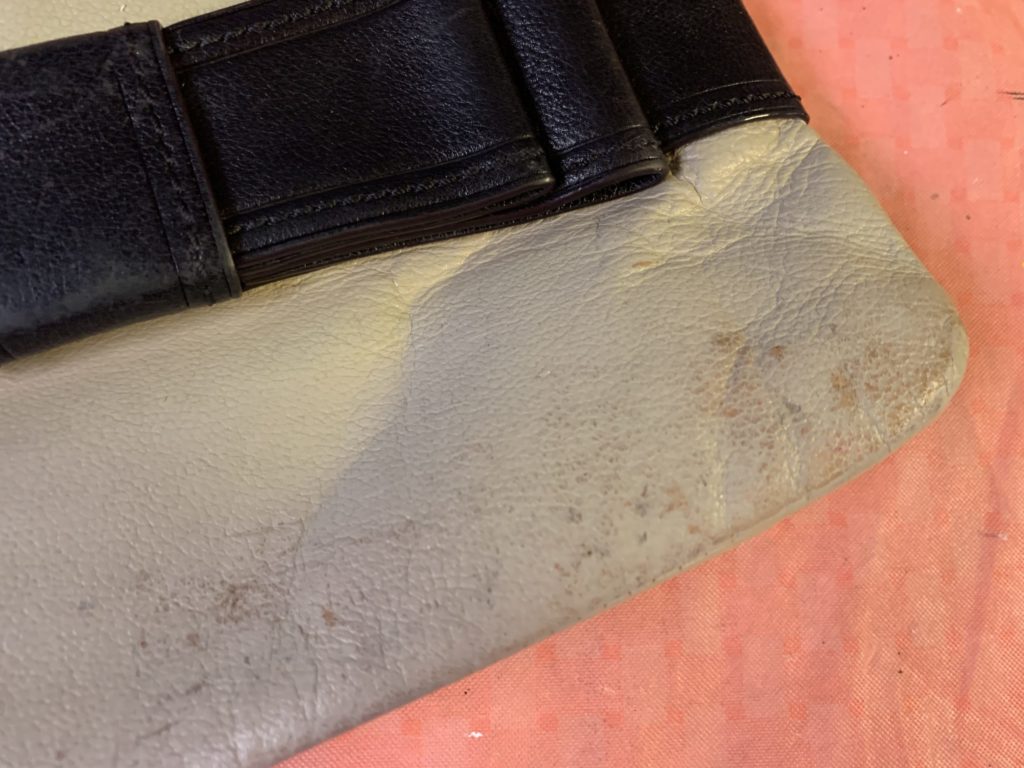 I let the handbag dry overnight and honestly still wasn't expecting much. The description of the paint talks about using it for accents only, but I am here to tell you that I have a basically brand new bag thanks to this paint. The paint covered the marks on this bag perfectly and it didn't ruin the buttery feel of the leather at all. I also used it on the fabric around the zipper, which was dirty. I still can't stop talking about how well this paint worked and showing people the before and after photos. I didn't paint the bow, but I may in the future just to give it a refresher.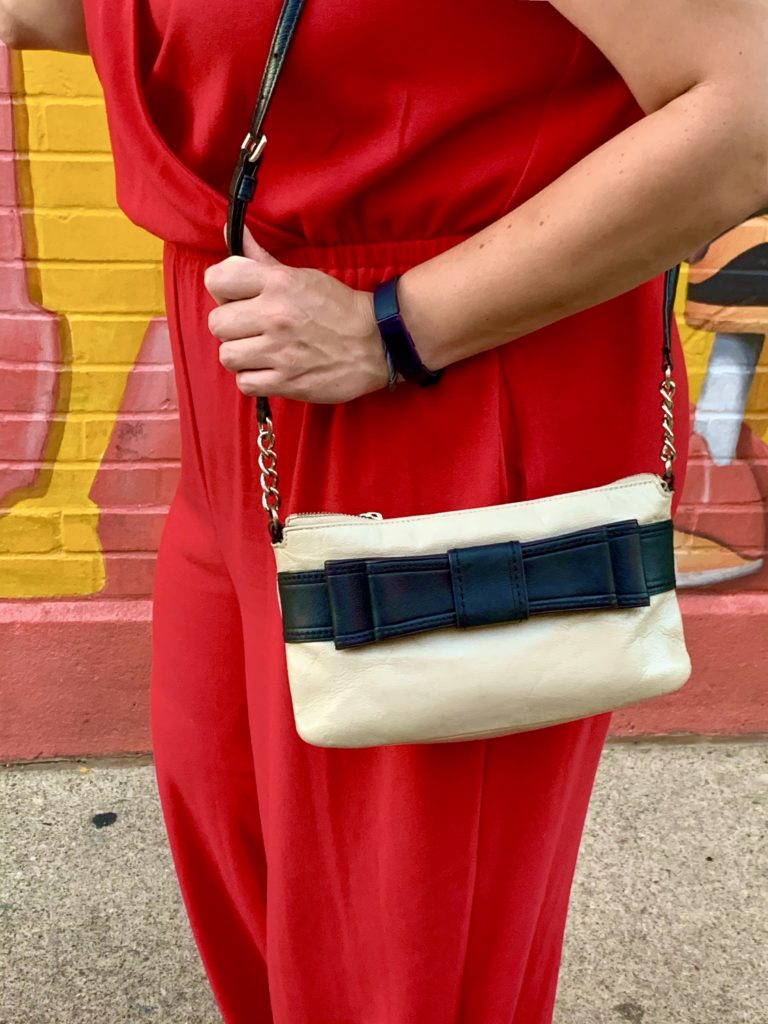 I admittedly didn't take a lot of photos because I wasn't sure this was going to work, but I highly recommend this DIY if you have a handbag in need of some TLC.
Would you try painting your leather or vinyl handbag to revive it?
xoxo,