Cookie Butter Cheesecake sort of speaks for itself — and it is the most requested dessert by my family and friends for holiday gatherings. It's delicious, creamy and last year, with COVID, we weren't together for Thanksgiving, so I passed the recipe along to my cousin to make for her fiancé (now husband). At Christmas, I made mini versions in 4.5-inch springform pans so the five of us could each have our own. This year, when Thanksgiving rolled around, I got a call from my uncle, who claimed he had never tried it before — but that his son-in-law said he, "wasn't coming to Thanksgiving," unless I made this cheesecake…so I did.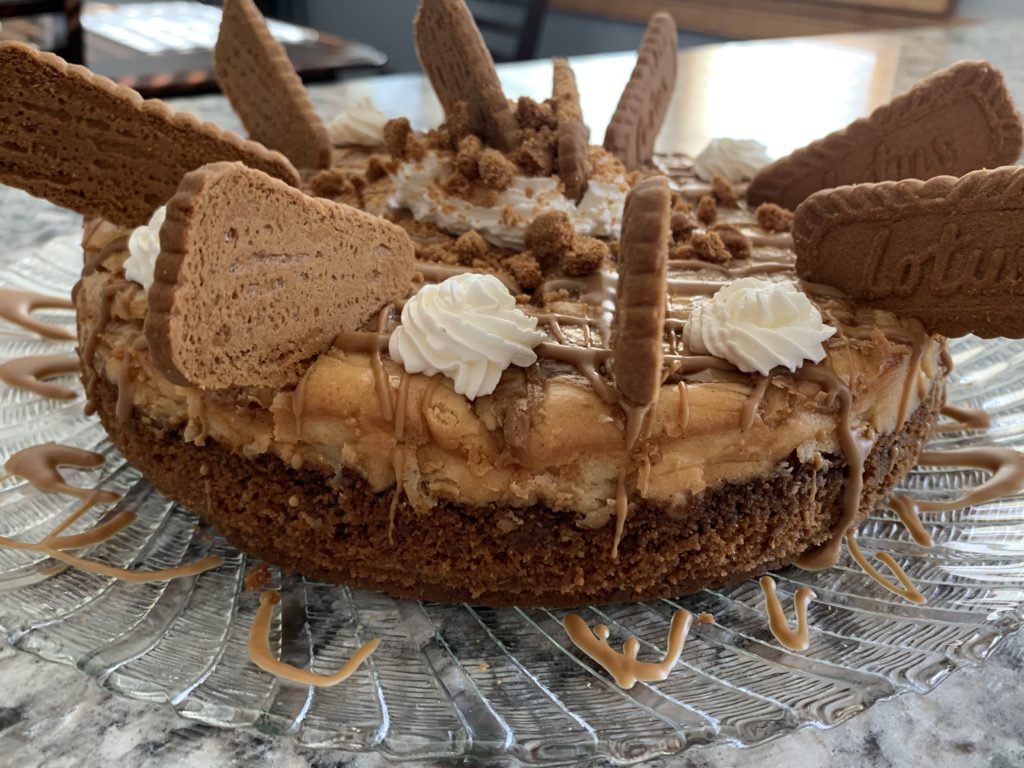 Featuring Lotus Biscoff cookies and Speculoos Cookie Butter, cookie butter cheesecake is undoubtedly one of the easiest cheesecakes to make, looks extra fancy, and is an unintentional crowd pleaser because it's not a traditional "fall" flavor like apple or pumpkin — yet feels like a perfect cold-weather dessert.
Cookie Butter Cheesecake
(Makes 16 servings)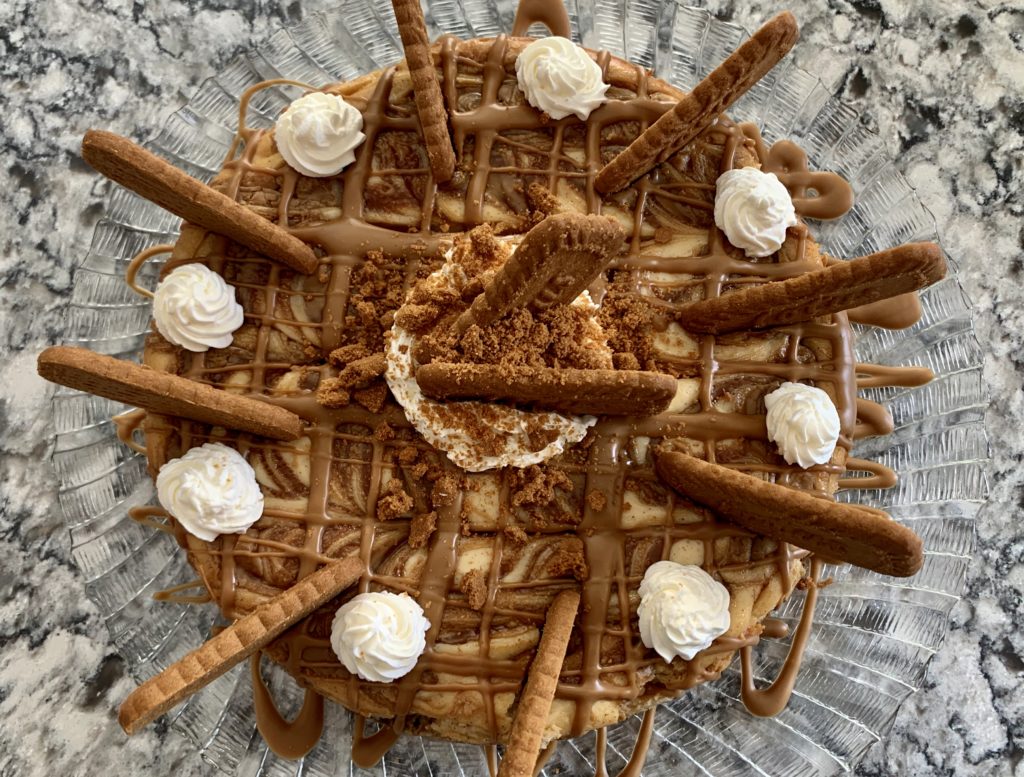 Ingredients
For the Crust
1/4 cup (1/2 stick) melted butter
1 pkg (7.7 oz) Speculoos or Biscoff cookies, set aside 8-10 for decoration
For the filling
4 pkg. (8 oz. each) plain cream cheese, softened
3/4 cup granulated sugar
1/4 cup packed dark brown sugar
1/8 tsp. kosher salt
1 Tbsp. vanilla
1/2 tsp. ground cinnamon
1/4 tsp. ground nutmeg
4 large eggs
1/2 cup Speculoos cookie butter
Optional:
1/2 cup heavy cream for whipping, decoration
2 Tbsp. – 1/4 cup confectioner's sugar (to sweeten whipped cream to taste)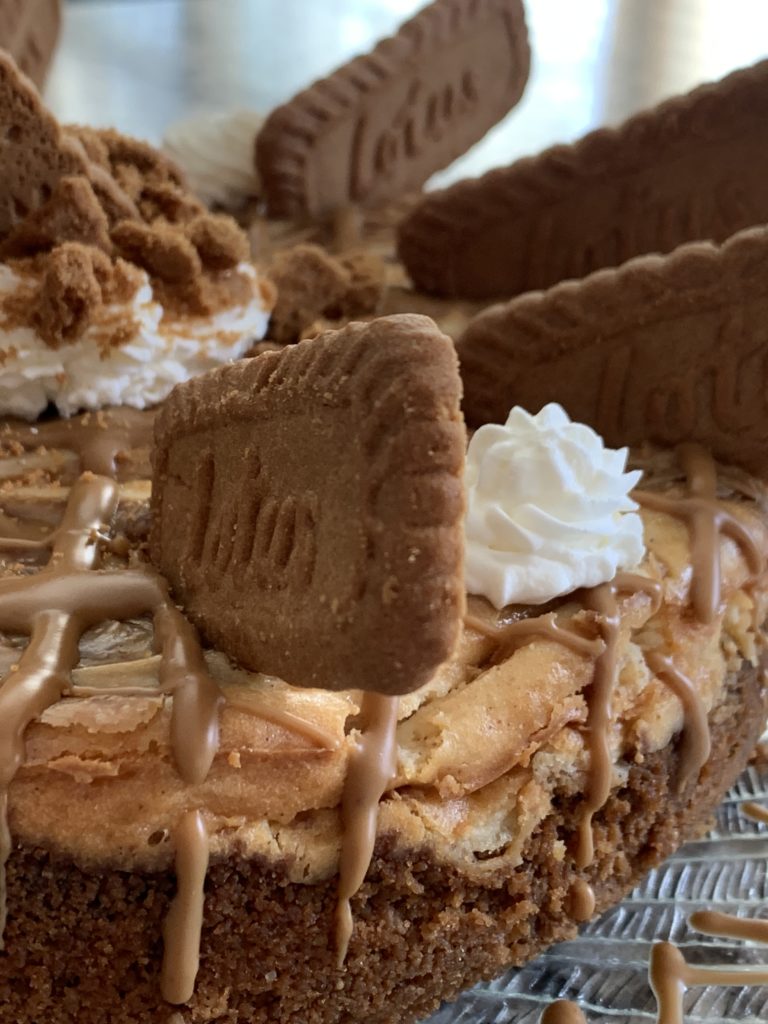 Make it:
Preheat oven to 325ºF.
Reserve 8-10 cookies and finely crush remaining cookies. Mix with melted butter until moistened and press onto bottom of 9-inch springform pan.
Beat cream cheese, sugars, salt, vanilla and spices in large bowl with mixer until blended.
Add eggs, one at a time, mixing on low speed after each just until blended. Pour over crust.
Melt 1/4 cup of Speculoos cookie butter, stir and drizzle over cheesecake filling horizontally. Using a butter knife, gently run the knife through the filling perpendicularly to push it down into the filling and marbleize.
Bake 1 hour or until center is almost set. Run knife around rim of pan to loosen cake and cool before removing rim. Refrigerate cheesecake 4 hours.
Use 6-8 of reserved cookies to decorate cake and crush remaining two for additional crumble decor and sprinkle over cheesecake.
If desired, use mixer to whip heavy cream and add confectioner's sugar to desired sweetness; use piping bag and star tip for additional decoration.
Melt remaining cookie butter, stir and drizzle over cheesecake.
Serve and enjoy!
Have you made cookie butter cheesecake before? What did you think?
(NOTE: This post contains affiliate links, which means I may earn a small commission if you choose to buy the product after clicking on them.)