"Well, no one told you life was gonna be this way. Your job's a joke, you're broke, your love life's DOA. It's like you're always stuck in second gear, when it hasn't been your day, your week, your month or even your year."

-The rembrandts
Do you think The Rembrandts envisioned that song would be the theme song for 2020 when they wrote it and released it in 1995?
We are officially six months into what I can only describe as well as the memes have — Jumanji level six? Black Mirror season six? What is even going on here? I'm not going to recap all of the atrocities we've experienced so far, because I feel like in six months, I've aged about 60 years and I'm willing to bet you're feeling the same way.
I finally have a hair appointment next week and things in New York are starting to reopen in Governor Cuomo's phase two, but just as businesses started to prep to open their doors again, we somehow reverted to 1960. 1920? I don't even know where we are anymore. But between a pandemic and having another civil rights movement, I am terribly exhausted.
And that's why we're gathered here today. BECAUSE IT'S 2020 AND FOR GOODNESS SAKE, DON'T BE A RACIST.
I'm not even asking please, because this is just known as a being a good human who cares about other people. I am sick over the deaths of Ahmaud Arbery, Breonna Taylor and George Floyd. I was and still am sick over the countless other black lives that have been cut short over the last 20 or so years— thinking back to the Rodney King video (If you're too young to remember, Google it.) and the original, "I can't breathe," heard around the world, as Eric Garner was in a chokehold, begging for air. The stories about Trayvon Martin, a kid in a hoodie, who was out in his neighborhood — and Freddie Gray, whose death after suffering major spinal injuries after being transported in a police van and the riots that ensued made for my first week of my summer in Baltimore. And so, so many others. There are so many others, that I can't even find a comprehensive list of all of their names.
I remember those first few weeks in Baltimore and the friends I made there. I was there for an internship at one of the three major TV stations, but I bartended most of the time on Inner Harbor. At that job, I was the minority: One of just four non-black servers in our restaurant. I had some difficult conversations with my co-workers that summer, who not only opened my eyes to the inherent, systemic racism in our country that never really went away after schools and water fountains became unsegregated, but also became some of my truest friends because of those conversations. We also had a hell of a lot of fun together and made some of the best memories. It's been five years and I know I could call any one of them tomorrow and pick up right where we left off.
I knew some of the kids I grew up going to school with had experienced racism but I'm only now, in the wake of this most recent uprising, learning how much. A friend, who I went from 2nd grade to 12th grade with, but won't identify, posted on Facebook about how in kindergarten another classmate told them she wasn't allowed to play with them because they were black. I had no idea that there were people in the town where I grew up who felt that way. It broke my heart to read that because there was never a question of who I was allowed to play with or be friends with and I am so sad that someone we grew up with treated them that way.
I am even more worried about my friends who fear for their own safety, or moreover the safety of their husbands, their dads, their brothers — or their own sons now — any time they leave their homes. It is a feeling I have never and will never experience and my heart aches that any person would ever have to worry about these things.
But here we are nearly 60 years after the marches and the riots and MLK Jr. and Malcolm X and Rosa Parks. And Ruby Bridges, who is still alive by the way, is probably sitting at home trying to figure out how we got here again. Our parents and their friends and these civil rights leaders rose up. They did sit-ins, they didn't give up their seats on the bus, they broke the laws so we wouldn't be here; so that everyone would be treated equal — and 60 years later — black Americans are still being treated like second-class citizens. And it is not OK.
Al Jazeera has mapped out the killings of black Americans in every state from 2013 to 2019 and found they are two-and-a-half times as likely as white Americans to be shot and killed by police, despite ONLY MAKING UP FOR 13 PERCENT OF THE U.S. POPULATION. These are staggering numbers.
And while we're on the topic of Black Lives Matter: The discrimination in healthcare for black and brown people is part of what put them at the center of the coronavirus epidemic. Their symptoms and concerns in many healthcare settings are largely brushed aside. And those in lower socioeconomic households often work in those now-essential, low-wage jobs, where protections were few and far between at first — and many were relying on public transit each day. But wait there's more …many black- and brown-owned business owners who had to close their doors amid state mandates — ended up at the bottom of the list for PPP or other small business loans and grants.
As a privileged white person, I've never had this problem but one of those friends from Baltimore brought to my attention that there are dozens of shades of black and brown skin and barely any makeup to match unless you want to spend an arm and a leg — but even still, those are limited.
It's pretty scary to look at something straight on, see the data, speak to the people affected and realize you've never had this problem and probably won't for your entire life; that you will never have to face these realities that millions of black and brown Americans face every day.
People say journalists can't take a side because we can't be biased. There's no picking sides here. There's one side: The right thing. Black lives matter. Period.
And before you come at me with "all lives matter," it's like asking someone who's standing in the kitchen to grab something from the fridge for you because your legs hurt and the other person says, "Well, what about my legs? My legs hurt too." See how that doesn't really make sense? You're standing at the fridge. Grab the damn beer.
More rights for someone else doesn't mean less rights for you. It's not ice cream.
So what can you do about it? Congrats on making it this far. I'm happy to use my privilege and experiences to share some important resources with you.
If you have other important resources to share, please feel free to drop them in the comments or send me an email using my contact form.
If you're still racist and not planning on changing, please go away and never come back to this blog. I will not miss you.
xoxo,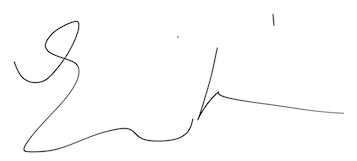 (This article contains affiliate links for the few books I listed, which means I may make a small commission if you choose to use my links to purchase them. Any commission I make from those purchases, I will also donate to Fair Fight Action, as I have pledged in my Etsy shop.)